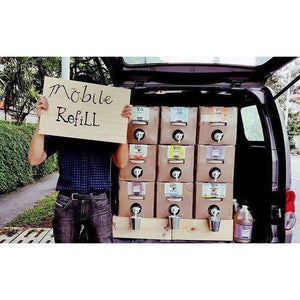 Mobile Refills - Liquid Castile Soap
Regular price $64.00 Sale
Our House Call Service to Reduce, Reuse and Recycle.
What we do

We bring your soaps to you!  We reduce our carbon footprint by combining and scheduling your orders together with others so that each of you wouldn't need to travel to get your soap purchased.  We also reuse and recycle our bulk packaging and reduce the need to recycle individual plastic bottles.
What you do
You reuse any plastic bottles for the refills.  This reduces the need to recycle.  You can also request for a reusable bottle from us with your first order and these bottles can be reuse again and again to reduce impact of recycling. 
How to Order
Place your order by Wednesday 2359 
We will confirm the mobile refill schedule by Thursday 2359 for the coming Saturday*
We will call you when we arrive at your place or at the nearest carpark to fill your orders.
Go Green Today!
Get your next refill delivered to your home. Save time, Save $, Save the environment.  Just $103.00 for a Gal refill for Castile Soap. Minimum order of $50 applies for refills.
Our refill delivery happens every Saturday now